4 Guides to Help You Work from Home During the COVID-19 Crisis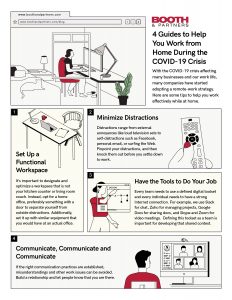 Millions around the world are clocking in remotely because of the COVID-19 pandemic. Memberships for communication platforms such as Slack, Zoom, and Skype have nearly doubled. Big companies like Google and Microsoft are encouraged to adopt a work-from-home policy. For modern tech corporations and organizations, the infrastructure and policy needed for a work-from-home setup are already in place and majority of the employees are probably already laptop users.
Amidst the global health crisis, working from home might just become the new normal for many of us, at least for the meantime. Some people will be working from within the comfort of their homes for the first time, which means there could be slight issues in terms of staying productive while finishing your tasks.
What Is A Work-from-Home Setup?
Simply put, this setup allows professionals to work outside of a fixed office space. Its spectrum is huge and can be incredibly flexible. Some people can combine this working style with a few days in the office, while others have probably never even met their colleagues face to face. Working from home relies heavily on communicative tools. Video conferencing, instant messaging, and other communication software to aid collaboration make this setup different from being in an office. While both are different in terms of ways to achieve certain tasks, working from home still requires an appropriate amount of respect and thoughtfulness at both an individual and at a team level.
Here are ways on how you can deliver results and avoid going stir-crazy, from setting up an efficient workspace to the way you communicate with your team.
Set Up a Functional Workspace
Not everyone has a designated home office, but it's critical to have a private, quiet space for your work. If you can, separate your work area from your personal spaces and use it just for work, not for other activities. When you're working remotely full time, it's important to designate and optimize a workspace that is not your kitchen counter or living room couch. Instead, opt for a home office, preferably something with a door to separate yourself from outside distractions. Additionally, set it up with similar equipment that you would have at an actual office.
Minimize Distractions
Distractions range from external annoyances like loud television sets to self-distractions such as Facebook, personal email, or surfing the Web. Pinpoint your distractions, and then knock them out before you settle down to work. If the kids are home and you're without childcare, see if you and your spouse can take turns with care—which may mean you have to talk to your manager about working evening hours. If you get distracted by other things while working, try using visual tools like a notebook so you can take down notes. It can also help you understand a project in a different light.
Have the Tools to Do Your Job
Every team needs to use a defined digital toolset and every individual needs to have a strong Internet connection. For example, we use Slack for chat, Zoho for managing projects, Google Docs for sharing docs, and Skype and Zoom for all video meetings. Your toolset may be different but defining it as a team is important for developing that shared context.
Communicate, Communicate, Communicate
Follow the Rule of Seven, which states that people need to hear a message seven times before they'll internalize it. If you feel like you're over-communicating information, you're probably communicating just the right amount. For some, team communication may be the most intimidating part of working remotely. But this will only be an issue if you let it be. Everyone from the team needs to be more explicit with regards to the tasks that they are working on. If the right communication practices are established, misunderstandings and other work issues can be avoided. Build a relationship and let people know that you are there.
Working remotely means that you're in charge of your own environment, so if you have to make adjustments on how you can make things better and work more productively, you definitely can. Remote work doesn't have to feel remote—it can be about being hyper-connected in an age of rapidly changing technology that makes it easy to create your best work without being in the same place as your coworkers.
Discover more about outsourcing and
how you can maximize it for your
business success!
Get a copy of our E-book: Guide to Outsourcing.
DOWNLOAD NOW