9 Hottest Roles to Outsource to the Philippines
Companies of all shapes and sizes are actively looking for the services of Filipino professionals to help them especially with time-consuming non-core business functions such as customer service, data entry, IT support, and recruitment, among others. Virtually, every organization has several tasks that must be performed daily, which can affect leaders' focus on more important areas like sales, marketing, research and development.
These are roles that need to be fulfilled for a business to operate and eventually succeed. For startups and small and medium-sized enterprises, filling up these non-core functions could be somewhat impractical. Nowadays, businesses only hire talent who can focus on its main aspects, while the rest will be accomplished by an outsourcing partner. This cost-effective option is proven to be healthy, especially for businesses that are just starting to make their mark in the industry.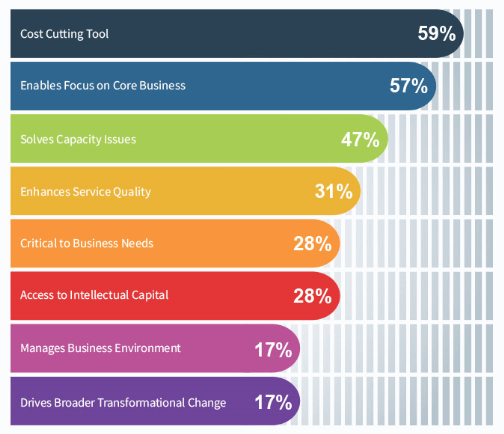 Source: Deloitte, Global Outsourcing Survey, 2016
Outsourcing Industry in the Philippines
The Philippines continues to be one of the most popular global outsourcing destinations. Though considered a late bloomer, the Southeast Asian nation still holds the title "The BPO Capital of the World." It has also gained an advantage of cultural compatibility with Western countries such as the United States and Spain, not to mention being included in the list of the world's largest English-speaking nations.
The country boasts a literacy rate of 97.9% and an employment rate of 95.5%. With exceptional English communication skills, the Philippines also offers a balanced package of reduced labor costs and top-notch customer service. Furthermore, the national government is supportive of the offshoring industry, focusing on telecommunication and infrastructure investments, especially in main business districts such as Makati, Ortigas, and Bonifacio Global City.
Another key advantage of outsourcing to the Philippines is that it only costs as little as $2000 to build a team of professionals and get you started. The outsourcing industry in the Philippines is steadily improving and has a lot to offer in terms of security and reliability. Check out these best roles to outsource to the Philippines right now.
Customer Service
Since the BPO industry's advent in 1992, the Philippines has increasingly become the international capital for customer support centers. With a neutral accent that can easily be comprehended and professionals that are highly experienced and very knowledgeable in Western culture and norms, building a team of customer service representatives in the Philippines can help you save up on operating costs and help minimize communication barriers.
IT Support
With technology adapted to the core of a business, IT support becomes an important function for it to efficiently operate. Constantly evolving technology transforms the way businesses perform, especially in the field of sales and marketing. Competitive organizations are in a race to adopt these technologies before they become irrelevant. With help from a professional IT support provider, you can guarantee that your network is up to date and that its technology delivers seamless operations across all roles and departments within the company.
Website Development
Adopting technological advancement also means creating your own website so you can be easily reached by your target audience. Web development plays an important role in your product, service, and branding, and it encompasses various departments like web designing, web programming, web server configuration, and many more. Outsourcing this function is an increasing trend across the world and is projected to grow as everything transforms digitally. Outsourcing your web development needs can help you become well informed about the latest market trends in terms of design to grab the attention of potential clients and customers.
Content Development
If you want to reach a wider audience, your content production has to be massive. Blog posts, social media posts, email marketing content, website content—all of these platforms are crucial to meet your goals. Outsourcing these functions to a freelance writer or a service provider can essentially speed up content creation. In fact, a writer who is not part of your company could take a fresh perspective on your content and may have new ideas that will interest your audience.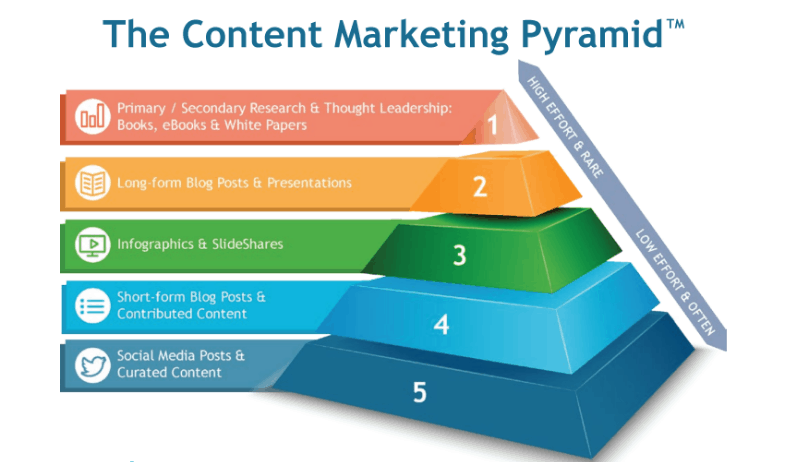 Source: Neil Patel
Financial and Accounting Services
From payroll and insurance to monthly expenses and overhead costs, financial and accounting services are vital for any business. However, managing an in-house accounting team is often costly, especially for startups and small businesses who need to manage their resources wisely. A financial and accounting services provider can help businesses find flexible solutions that meet their specific requirements and budget. It also gives you a chance to reduce the cost of hiring additional staff. Moreover, outsourcing these functions can help you respond to the volatility of the market and deal with the variable nature of revenue earned.
Virtual Assistants
By outsourcing a virtual assistant, you can save money, time, and other valuable resources. Also, your productivity increases as you get enough time to handle more important matters yourself. A virtual assistant has a variety of specialized expertise and can remotely manage any administrative, technical, or creative task you need help with to keep you organized, be it from invoicing and answering calls to scheduling meetings and crafting quality presentations.
Marketing and Advertising
A survey conducted by Harvard Business Review stated that the two primary reasons why companies outsource marketing and advertising processes are cost reduction and quality improvement. Service providers can also provide the sought-after analytics and management expertise that many organizations lack.
Data Entry and Processing
Organized data is crucial to accelerating your business growth. However, data entry and processing can often go neglected as it is a repetitive task. Outsourcing these functions to a service provider can help you increase operational efficiency, empower you to make informed decisions, and help you save up on costs. Moreover, data entry specialists in the Philippines have the expertise to provide first-rate services and can meet all your requirements, with safety and confidentiality as top priorities.
Human Resources and Recruitment
Small and medium-sized enterprises hire an outsourcing partner to help with human resources and recruitment functions with the aim of sourcing talent, administering payroll, managing insurance, and paying employment taxes. A study found that companies that outsourced grew 7-9% faster than those that opted to rely on in-house staff. Fast-growing businesses are also more likely to need outsourced HR and recruitment services. An outsourcing partner reduces the fixed cost of managing employees and is more efficient because the infrastructure and processes are already in place.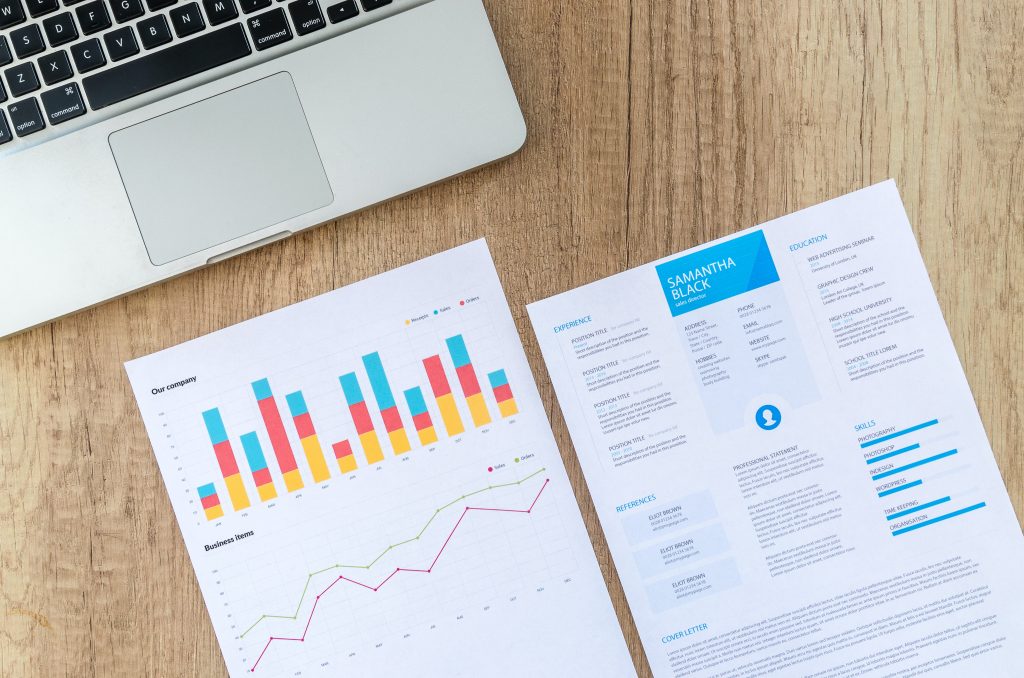 Outsourcing is a viable option especially for startups and small businesses. Make sure you are on the right track by finding the right partner. While technologies continue to evolve in the Philippines, companies that want to remain competitive in the global market cannot manage to neglect the most functional benefits of outsourcing your non-core business functions.
We can help you build your remote team. Send us an email at hello@boothandpartners.com and let us start discussing your options.
Discover more about outsourcing and
how you can maximize it for your
business success!
Get a copy of our E-book: Guide to Outsourcing.
DOWNLOAD NOW