Outsourcing Vs. Talent in Demand: What's Right for Your Business?
Due to the ever-changing nature of work, companies now have a wider option of hiring talent. Other than your in-house employees, you can diversify your workforce to include outsourced staff and talent in demand (freelancers).
In this article, we dig down the key differences between outsourcing and talent in demand to help you determine the best option for your business. 
Understanding the Terms: Outsourcing Vs. Talent in Demand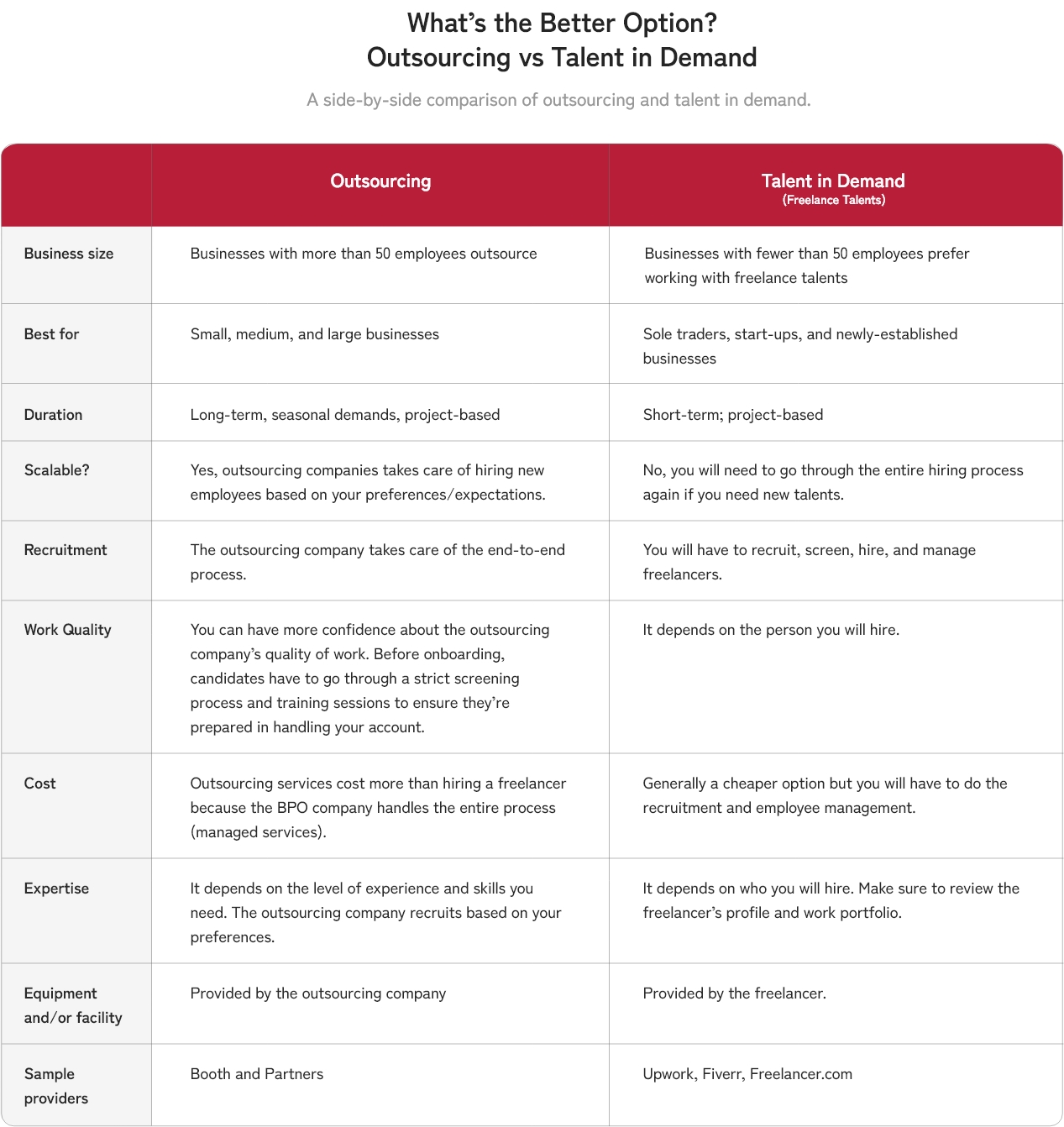 Outsourcing
Outsourcing is the process of hiring another company to do certain job functions on your behalf.
Businesses outsource because they need to:
Close the talent gap in their organization,

Free themselves from repetitive tasks,

Focus on bigger responsibilities,

Save time and costs on recruitment, training, employee programs, and equipment,

Get jobs done that are outside their expertise (for example, a construction company that outsources its accounting functions),

Increase their work capacity during peak seasons, and

Provide back-up to their in-house employees, especially during rapid business growth.
Outsourcing offers scalability — making it perfect for long-term arrangements.
Does it still sound confusing? Let's apply it to real life.
If you run a telecommunications company, for instance, you need a customer service team to handle your customers' grievances. 
The thing is, customer service is not your expertise.
Rather than starting from scratch, outsourcing lets you take advantage of the existing resources of a call center company. This includes the expertise, talent base, equipment, training programs, and more. You can start with one or two employees and grow your team along the way. 
For reference, you can read this story of an internet service provider who succeeded in outsourcing their customer support. 
Talent in Demand
A talent in demand, or on-demand talent, is someone who doesn't require a payroll. In short, a freelancer. Gig workers, independent contractors, and contractors also fall under this category.
This person is either a self-employed worker or a full-time employee with side gigs.
It's a common option for small businesses with less than 50 employees or those with short-term projects.
Here's an example:
Say, you want to build a website for your retail shop. Instead of hiring an in-house web developer, you can opt to hire a freelance developer. Once the website is ready, you can let go of your freelancer.
You only get what you pay for; no overhead costs included. You also have the liberty to explore a plethora of talent specializations in freelancing sites.
It works the same way as staff leasing though the latter's recruitment process and admin needs are managed by a Professional Employer Organization (PEO).
What's the Best Setup for Your Business?
To figure out what's the ideal option for your business, consider your existing resources and business goals. What's more beneficial to you in the long run? Is it —
Working with a freelancer?

Outsourcing the job?

Hiring an in-house employee? 
Freelancers (on-demand talent)
When you're still building your business, you may find it more feasible to outsource jobs to freelancers. It also works well for short-term projects or project-based outputs.
Outsourcing 
When you gain momentum, you can turn to outsourcing.
Hiring an outsourcing company may work better at this stage, especially when you're at the growth and/or maturity stage. You need undivided attention to keep your business strong. You can't be bothered by trivial matters like data entry.
In-house employees
For core job functions, hiring in-house employees can be your best option. This is especially true if your business is established. For example, you may be at the point to have an internal I.T. team to keep in check your business's security matters. 
In short, deciding which work setup would work best for your business depends on what you need best at the moment. 
Benefits of Outsourcing
Do you think outsourcing is for you? Here are the top benefits you can reap when you outsource:
Increase your cost savings

–

The Philippines, an outsourcing hotspot

, has lower-wage requirements and lower tax rates. At the same time, you can also save on operational costs like office space and equipment. 

Work with the right talents

– Expect your chosen outsourcing company to filter job candidates. This way, you can work with the most fitting person for the role.

Scale your team easily

– Outsourcing is scalable. Depending on your needs, you can upsize or downsize your team whenever the situation calls for it. 

Get access to technology

– Outsourcing companies invest heavily in their equipment and technology to bring the best service to their clients.

Well-established procedures –

Capitalize on your BPO company's well-established procedures. Rather than building your procedures from scratch, it will be wiser to adopt the procedures that work for them. Just make sure to analyze the procedures first and see if it can also work for you.
Get Your Outsourcing Needs at Booth & Partners
Booth and Partners is a Philippine outsourcing company. We specialize in delivering managed services, staff leasing, and employer of record.
If you need more information about our outsourcing services, contact us today. You can also get your free copy of our e-book, A Comprehensive Guide to Outsourcing, to find out how you can succeed in outsourcing. 
Discover more about outsourcing and
how you can maximize it for your
business success!
Get a copy of our E-book: Guide to Outsourcing.
DOWNLOAD NOW