Everything You Need to Know to Start Your Offshoring Journey
We know what's on your mind – should you hire in-house or offshore assets? It's a million-dollar question that has consistently been in debate for many years. Unfortunately, there's no straightforward answer to this, as there are many variables that can influence your decision before starting your offshoring journey.
Don't worry, we're here to alleviate some of that stress gathering in your mind. That said, your end goal, be it hiring in-house or offshoring, is to grow your business by reducing operating costs and increasing revenue. After all, the success of any business depends on its people, so hiring is critical.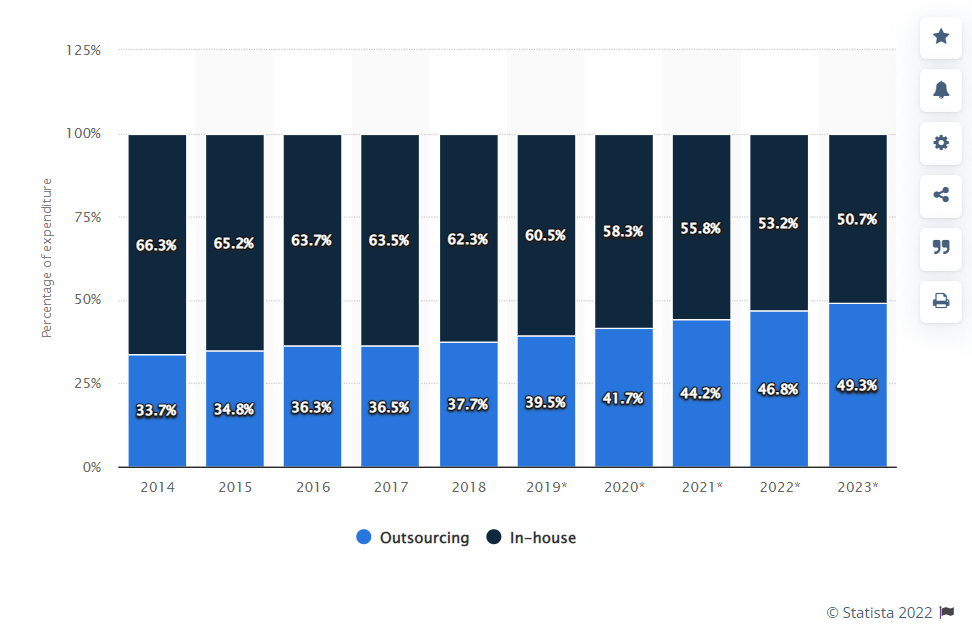 Which is the Best Way for You?
Obviously, there's no straightforward answer to this, though there are some guidelines that can help you; they're typically based on your business objectives and needs. Any tasks that require you to have firm control over or have a long-term need or can give you added competitive advantage, in such cases, it would be best to hire in-house staff. However, if the tasks aren't part of your company's core competencies or you have a short-term need, you may want to consider offshore outsourcing.
The above shows the in-house vs outsourcing services trend from the years 2014 to 2023 for the global pharmaceutical industry market. In this period, the percentage of in-house hiring spending is expected to reduce from 66.3% in 2014 to almost 51%in 2023. This translates to a continuous uptick in outsourcing adoption for the market.
Both can be great options – but which is best for your business? Well, either you can schedule a consultation today to find out, or, read more below about it.
Advantages of Offshoring
From financial to productivity, offshoring may seem like a brick wall of a challenge, but don't fret because it's easier than it looks. The following are the benefits you can reap when you outsource your resources:
1. Cost Cutting
According to a survey done by Statista, one of the leading drivers for companies to opt for outsourcing is cost-cutting. In fact, 59% of companies agreed to this. With this, you won't need to spend time and effort on tons of interviews and equip the necessary workplaces. You only need to agree to a sum for the project and once delivered, you move on simple as that.
2. Core Competency
Let's face it, there will be times when certain specialized skill sets are required to complete the job as part of the project requirements. When you and your team don't have these skill sets, it would make sense to outsource and let the experts handle this while you do what you do best. This enables you to focus better on your core business.
3. Risk Mitigation
When you choose to start your offshoring journey, there's a legal contract. It usually includes the usual scope of work, NDA (Non-Disclosure Agreement), and also other important points like payment terms, delivery time, performance, confidentiality and exit clauses. As such, both parties share the risks involved in the process by default.
4. Easier to Set a Budget
Hiring in-house may introduce other extra costs such as additional training, raises or bonuses, overtime pay and more. Contractors usually stay on budget, so you can plan your financial expenses better.
When Do You Need to Offshore?
? I want to save on time and costs
? I want to hire employees/professionals in a specific niche
? I wish to expand to a global market
? I want the best efficiency and effectiveness
Starting Your Offshoring Journey
Offshoring with BPO Companies allows you to outsource workers through a Professional Employer Organization (PEO). However, you – as the client – are still responsible for managing the outsourced team through a team leader who will work alongside the leased staff. Here is a step-by-step guide on what you need to do if you want to implement this model:
Value professional references

– Consult with your friends and colleagues during your Professional Employer Organization (PEO) search so you can get the best experience possible.

Consider company size

– Take into consideration the size of the Professional Employer Organization (PEO) and if you will be a big or small fish in their client pool.

Assess your timeline

– Discuss the hiring process timeline with your PEO and compare them with your own needs and requirements.

Request a consultation

– See if the benefits of

staff leasing

are favorable for your business. Inquire through your chosen Professional Employer Organization (PEO) about the positions and job descriptions that you need, and raise some concerns if you have any.

Review the proposal

– The Professional Employer Organization (PEO) will provide you with a comprehensive proposal where you can read and understand the scope and objective. Of course, the main thing to keep in mind is the key information you need and to ask questions if you find that there are details that need more clarification.

Sign the contract

– Once you've made the decision and there's a green light, you can now sign the dotted line.

Recruit your employees

– Based on your requirements, the PEO will select the employees that fit your team.

Select the qualified applicants

– You will now have the chance to interview the shortlisted candidates and hire the new members of your team.

Start the implementation

– Onboard the leased employees in your business and start the ball rolling.

Conduct an evaluation

– Provide feedback on your employee's performance and make the necessary adjustments if needed.

Before Taking the Leap

When you're at a crossroads, deciding between hiring in-house or offshoring, you'll need to first evaluate your business needs. After all, there are pros and cons to both options. Bear in mind that each approach is suitable for different situations and requirements.

Analyze your company's needs and be meticulous with your choice. Whichever way you choose, you don't want to become so reliant on PEOs that your business cannot survive without them. Maybe that's why most go for the hybrid approach. At the end of the day, you want your business to prosper in whichever way you choose.

Ready to start your offshoring journey? Get in touch with us to schedule a consultation. We will gladly help you throughout the process and guide you for successful outsourcing.
Discover more about outsourcing and
how you can maximize it for your
business success!
Get a copy of our E-book: Guide to Outsourcing.
DOWNLOAD NOW